THE ORCHARD KOH SAMUI. THAILAND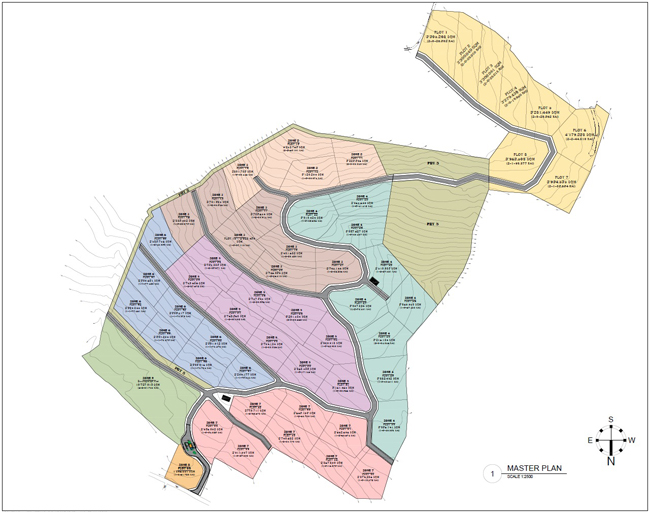 ---
If you are looking for luxury a real estate investment on an up and coming paradise island, you've found it!
The Orchard Samui is a prestigious high-end resort development of 60 luxury villas situated on a spectacular 53 acre estate (133 Rai, by the Thai system) on the North Western slopes of Thailand's stunning tropical paradise, Koh Samui.
This project has been in the making for many years, during which time the owners have been meticulously building and managing the land bank, augmenting the natural fruit orchards, building the infrastructure, and designing the estate's architecture. This uniquely positioned property is now finally ready to be released. The Orchard Samui will bring owners five defining benefits:
an exclusive private community, and
a world-class resort destination,
a lucrative long-term real estate investment with excellent income potential
excellent prospects for capital gain
traditional oriental style coupled with all the tropical bounty of Koh Samui's lush landscape.
The project owner is Orchards (Thailand) Ltd.
The 60 plots are large, between 3/5ths of an acre to an acre. Each one has a stunning view over the gulf of Siam, neighbouring Koh Phangan and the Ang Tong National Marine Park. On some days residents will also be able to see Koh Tao, fully 38 miles away. We are offering our clients the opportunity to buy into a luxury hillside living life style with classical asian-centric pavilions designed to create harmony with the character of the property and its rich history as an orchard. Moreover, all this with an ownership structure that will protect and enhance the value of your investment.
---
Our Vision
The vision of the project owners is to create a world-class resort community of luxury villas, each placed in such a way to blend in with a spectacular tropical island setting. The Orchard Samui is a wholly owned development of Orchards (Thailand) Ltd. set up by a group of experienced Bangkok-based Thai investors with strong connections both within Asia and between Asia and the West. From the outset, we have adhered to international standards of corporate governance in structuring the Company and managing its prime asset.
In upgrading the property, we have been respectful of the natural beauty and amazing sea-views of our elevated hillside estate. In building the infrastructure, we have implemented efficient and ecologically sound solutions, in order to protect the intrinsic value of our corner of this idyllic island. In developing the architectural designs for the villas, we insisted on a coherent "green" identity for the entire estate, so we build a community identity right from the very start. Investors will be able to take advantage of:
A firm 90 year leasehold structure, which eliminates the need to renew after 30 years
An option to buy;
A strong deed of mutual covenant which will be agreed to by each investor; and
The potential to insure your property's lease against forfeit;
Our discerning buyers will get to join a small, select community, on a world-class estate development, in an unspoiled area of natural beauty with gorgeous views across the Gulf of Thailand. In addition, they will acquire an investment-grade asset, which should only increase in value as the island comes to maturity as a resort destination of global renown. Koh Samui is unashamedly an up market destination, but prices here still lag behind more famous resorts, such as Phuket.
---
Who Are We?
Board of Directors
Chakrit Wongsakornraksa
, Director, Thai-New Zealand
Jenjira Greenwood
, Director, Thai-British
Mark Greenwood
, Managing Director, British *
Vincent Swift
, Director, British*
Jan Dam Pedersen
, Advisor to the Board* Danish
*Executive Committee Member
Introducing the Executive Committee.
The Executive committee has been entrusted with supervision and implementation of the Orchard Samui project. Led by the Managing Director, Mark Greenwood, between them they have over 100 years of collective experience of living and working in an Asian environment, mainly Thailand. Here they are.
Mark Greenwood, Managing Director
Having been posted overseas to Dubai in 1978 by HSBC, Mark embarked on a career in financial services and research for 20 years which saw him move to Cyprus and Hong Kong, where he produced some of the first Credit Ratings on Middle and Far Eastern Banks. He finally arrived in Thailand in 1987 where he became the first overseas national to broke the burgeoning Thai Stock Market to professional investors worldwide, winding up as Country Head of Equities, Thailand for BNP Paribas. Moving out of financial services in 1998, he has since been held Chief Executive positions in companies involved in Research and Marketing, Oil and Gas Exploration and Production.
Before being appointed Managing Director of Orchards Thailand, his last CEO position was at Deva Development PLC, which had a portfolio of properties in Bangkok, Phuket and Krabi and a thriving $400m set of developments in affordable housing. Mark bought his first property in Koh Samui in 1991, remains a huge Samui fan and has been visiting the island ever since. A founder shareholder, he has been heavily involved for the last three years in the preparation of the launch of The Orchard Samui. He is now back home full time in Thailand having spent the last few years commuting between Bangkok and Oxford where he has refurbished a Country Inn, The Bear and Ragged Staff and looked after his two Bangkok born daughters who are now both at university in the UK. He is now based in Koh Samui.
Vincent Swift, Director
Vincent Swift is a Bangkok-based British businessman who, since 1993, has built up a group of professional service companies across Asia in the areas of Human Capital and Consulting. His earlier professional background was in advertising and marketing communication, including 10 years running Leo Burnett's offices in Hong Kong and Mainland China, which he established in 1992, and Thailand. His diversified business interests now also include New Media, Fintech and Real Estate.
Born in Liverpool, UK, Vincent holds Bachelor's and Master's degrees in Chemistry from Oxford University, has lived in Asia for 30 years, and has worked in every major market in the region. He has been building a residential property portfolio in Thailand since 1988, and through his Thai real estate company was one of the original investors in Orchards (Thailand) Ltd. in 1990.
Jan Dam Pedersen, Advisor to the Board
Jan Dam Pedersen, a Danish businessman, has for more than 35 years been based and worked in various countries in Asia. Originally posted overseas to Thailand in 1974 by The East Asiatic Co. Ltd. (EAC), his career included assignments in U.S.A., Japan, Vietnam and Indonesia. However, 27 of these years were based in Thailand. This included some 10 years as CEO of EAC's Industrial Chemicals business where he was spearheading the regional expansion into South East Asia and South Asia. Jan subsequently took up the position as COO in Brenntag, the world's largest industrial chemicals distributor, for the Asia Pacific Region. After leaving Brenntag in 2013, he established Novanta Ltd., a consulting company engaged in the chemicals industry and as the Thailand Investment Adviser for the Danish Government owned investment fund IFU.
Jan was one of the original investors in Orchards (Thailand) Ltd. back in 1990, and has been active in the management of the company since its inception. Apart from owning a modest property portfolio in Thailand, he has a strong interest/experience in building and refurbishing residential properties.