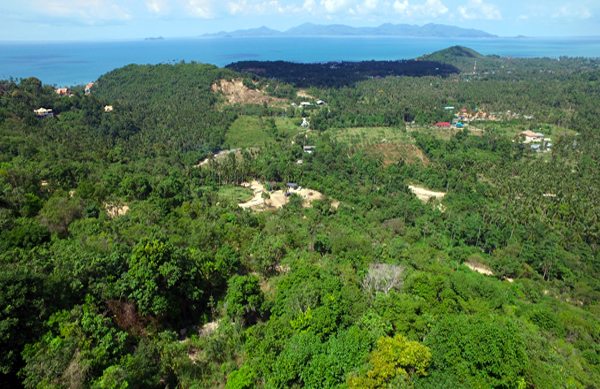 How big is Koh Samui?
Approximately 228sq.km or 88sq.m
Where is Koh Samui?
300 miles South of Bangkok on the Isthmus of Kra in the Gulf of Siam, Kingdom of Thailand
Where is the Orchard from the airport?
16 kms/10miles from the airport on the North coast of the island. 20 minutes drive. 2kms inland.
What is the land's aspect like?
The Orchard sits on the side of a large hill, facing North, East and West. Its elevation is between 60 and 280 metres above sea level.
How many plots are there?
60 to 80
How big are the plots?
The plots at the Orchard are among the biggest available on the island with a minimum size of just under 2400m2, or 3/5th of an acre. The largest plots are just over 4000m2 or slightly larger than an acre.
Do the plots all have a sea view?
Yes! Every single one! The higher one goes, the more panoramic.
Why is it called "The Orchard"?
Historically, most of the land had been used for fruit tree cultivation, Coconuts, Mangoes, Cashews, Pandan Leaf and more. In order to enhance the "fruity" nature of The Orchard, we are offering to supply up to 15 Tropical Fruit trees per rai of land for investors to create their own personal orchard, guaranteeing a supply of fresh fruit year round.
What kind of views?
Every plot has sea views; most plots have a Northerly aspect, overlooking the neighbouring island of Koh Phangan, the Angthong National Marine Park incorporating sweeping views of the North Coast of the island. Koh Tao, 37 miles away to the North West as also regularly visible.
Will my views be blocked by future building?
No, because of the large size of the plots and the natural gradient of the site.
Are there building restrictions in Samui?
Yes. They were brought in around 5 years ago. We strongly believe that they are a benefit to the long-term future of the island as they ensure very extensive, green development on all land above 80 metres and will therefore preserve the natural beauty of this very mountainous island. All our designs meet the island's criteria
What kind of restrictions are they?
They prevent building structures more than 6 metres tall, and more than 90m2 in one building, not including veranadahs. At least 50% of each plot has to be green, open space. They add to the attractiveness of the development. What investors will end up with is an extensive collection of pavilions of different sizes and configurations, connected by footpaths winding through your own tropical garden.
How high can I build?
In most parts of the development, 6 metres, which is enough for our specially designed Asian traditional roofs. However, mezzanines are possible in the larger units
Are there restrictions on the external appearance of my villa?
Yes. We believe this to be very important to maintaining the value of your investment in the Orchard. There will be no external walls allowed between or outside plots. Paint and roof colours will be controlled too as will any extensions.
How will these restrictions be enforced?
Through a deed of Mutual Covenant signed by all owners with Orchards, to be legally enforceable.
What about the electricity supply?
There are two 1500KVa transformers on site. Both the low voltage and high voltage mains cables have been buried. Electricity is supplied by the Provincial Electricity Authority.
How about the water supply?
We have installed the necessary pipework to allow water to be pumped up The Orchard to holding tanks, and to allow a gravity fed network to supply all the Villas. Owners may augment their own supply by building their own well if they like, or collecting from gutters into underground tanks. Our system has been designed in such a way as to ensure continuous supply even if on site resources run out.
In addition, Internet Access?
Conduits have been built into the buried services, which allow for the installation of fibre optics. 4G wireless is available on the island.
Are Freeholds for sale?
Yes. However, international investors should take the appropriate legal advice to ensure that whatever structure they put into place, meets the Royal Thai Government's rules in this regard.
The lease option
Initially, a 30+30+30 year lease, for a total of 90 years. These are legal for foreigners to own, though we recommend investors speak with counsel.
Can I pass ownership of my property to my children?
Yes, leasehold interests are transferable to heirs and assigns under Thai law. But take appropriate legal advice. Most buyers of either freeholds or leaseholds put them into offshore companies for tax reasons.
Can I alter the external appearance of my Villa or extend it?
Yes, as long as it is approved by the Developer or the Management Committee. It will be approved so long as it is in keeping with current Samui planning regulations, and with the spirit if the Deed of Mutual Covenant.
Can I alter the interior layout of my Villa?
Yes, such plans will be approved as long as they are sound from a safety and engineering standpoint. However, such alterations if not undertaken in a tasteful manner, may affect an owner's ability to rent his or her property.
Can I buy more than one plot?
Yes! I if you wish to build the Samui equivalent of Buckingham Palace, you are welcome. We will be happy to build it for you.
Can I just buy the land as an investment and wait to build?
No, we do not want the Orchard to be a permanent building site; we aim to build a community here. The developer reserves the right to buy back any plot sold that does not have a villa built on it within 2 years of purchase.
What are the rental returns like?
Orchards Thailand is not guaranteeing any rental returns on any property for sale at the site. However, it is fair to say that the villa rental market in Koh Samui is well developed and after a few years of operation, returns of at least 5% per annum or more may well be achievable.
Will the Developer help to rent our property?
Yes, we are very keen to help and are negotiating with operators on the island. We anticipate putting all the properties available for rent into a pool where they would be marketed collectively to avoid cutthroat competition among owners.
Will there be a "Club House"?
Given the very generous size of the plots at the Orchard, and the lessons of history which indicate that large clubhouses end up being a burden to investors, we will be building a restaurant and spa which may include a holistic treatment centre at the orchard. Outline designs have been completed. It will be open to the public as well.
What facilities will this facility provide?
A local and international restaurant and bar, entertainment facilities, a swimming pool, a compact gym, a wellness centre with various holistic therapies and a naturopathic medical practice.
---