ARCHITECTURE AND LANDSCAPING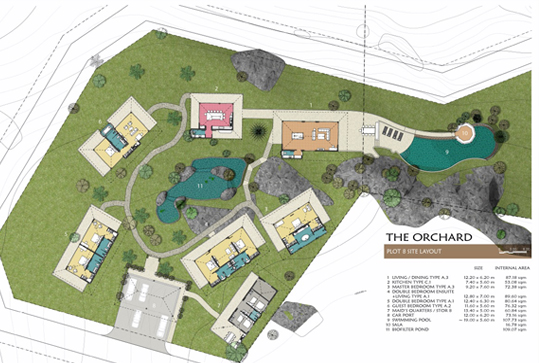 ---
TRADITIONAL THAI ELEGANCE WITHIN AN EXOTIC TROPICAL GARDEN
In order to create a consistent identity for the project, and to preserve the natural beauty of the estate, buyers must select from a wide range of coherent architectural designs for the construction of their Villa. The designs have been prepared by a team of talented architects to international standards, and in accordance with Koh Samui building regulations. The brief was to create a consistent, coherent visual identity for the entire estate, to give The Orchard Samui the look and feel of a well-planned community in full harmony with its unique natural environment.

The Directors of Orchards Thailand Ltd. Have prepared a Deed of Mutual Covenant which governs the construction of properties on plots sold, thereby assuring all owners that any development will be in accordance with the established design standards of the Orchard Samui Estate. This enhances the value of the Estate overall, protects the investment of each individual owner and benefits the community as a whole.
---
90% of the land at the Orchard Samui is more than 80 metres above sea level, meaning that only buildings with floor plates no larger than 90 m2 can be built, covering no more than 25% of each plot. No more than 50% of any plot can be covered with buildings, pools or pathways. Multiple buildings on each plot are allowed. This will ensure a "green garden" estate, rather than a "concrete community". There is a maximum building height limit of 6 metres.

Hence, Residents of the Orchard Samui will enjoy the relaxed feel and privacy of living in the green gardens within each plot, and, though there is a real community feel, they will not be living on top of each other. The 60 plots on offer all have sea views and are generously sized with a minimum of half an acre up to a maximum of over an acre, on elevations of up to 280 metres (920 feet).

The external appearance of all properties on the Estate will be uniform and controlled, within a coherent, consistent architectural identity stipulated by the Deed of Mutual Covernant. Each residence will be built by selecting from a range of different Pavilion designs using a range of materials, which from an external viewpoint will guarantee visual harmony. The interior designs and furnishings will of course be at the discretion of each individual owner, however advice as to the most appropriate materials for Samuis tropical climate will be available. Our show house will be a mine of interior design ideas.

In order to reinforce the look and feel of living in a tropical plantation, walls will not be allowed to be built on the frontage of the Villas; for privacy, dense hedges will be used instead. At the same time, the entire Orchard Samui Estate will have high levels of security day and night, backed up by CCTV.

Each villa owner will be able to tailor make their own tropical orchard. Orchards Thailand will be supplying up to 15 fruit trees for each rai purchased, to be chosen from an extensive list of tropical fruits. Advice will be offered to each villa owner as to what would be most appropriate for each plot.